- Ruhr-Universität Bochum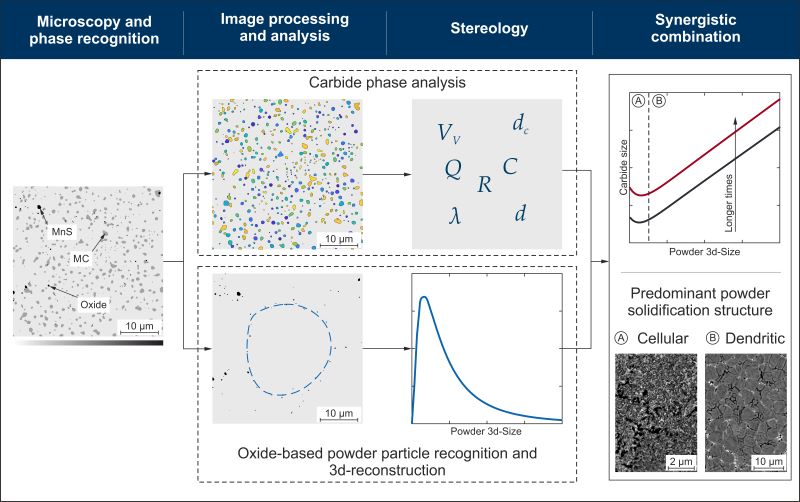 Uncovering Process-Structure Relationships Through Novel Microstructural Characterization and Data Analysis
There are countless ways to characterize the links that form that chain. Arguably, the most widespread technique for microstructural analysis in research and development is scanning electron microscopy (SEM). Its popularity, however, does not mean that its descriptive potential has been exhausted. On the contrary, we believe that it is highly profitable to complement this already incredibly fruitful imaging technique. The motivation within our group to model and describe the manufacturing process and microstructure of powder metallurgy ledeburitic tool steels was the driving force behind the development of general tools that could find application in various materials and systems.
We have developed a novel image analysis strategy to comprehensively characterize closed shapes and their spatial distribution and an algorithm to recover three-dimensional powder distributions from two-dimensional sections. By combining these approaches, we uncovered new process-structure links associated with the hot isostatic pressing of a commercially available high-speed steel. The figure shows a flowchart of the study published in our last work. We described for the first time how the solidification during atomization influences the final microstructure.
These findings hinge on the fact that SEM images contain an untapped wealth of two and three-dimensional data. We are exploring ways to improve how we analyze our information through convolutional neural networks, an already established tool to extract knowledge from images. In doing so, we intend to produce high-throughput schemes to describe systematically different alloy systems and powder atomization parameters.
Finally, we are actively searching for new areas of expertise to deploy our methods and findings. As we devised our algorithms on the premise of versatility, we can employ them in the analysis of closed shapes and particulate systems in a general sense. Some examples include crack and fracture mechanics, meteoritics, or planetary sciences.
Published
September 10th, 2021
Author
S. Benito, S. Weber