- Ruhr-Universität Bochum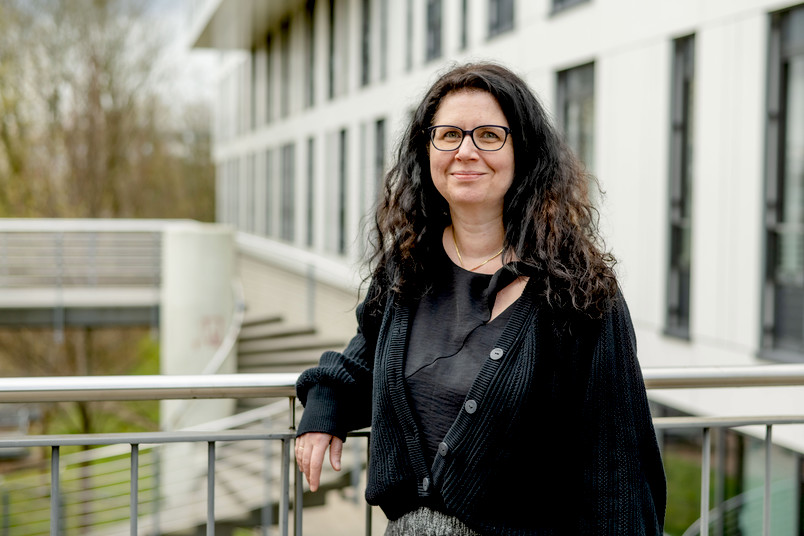 RUB News: Materials research
New profs at the Research Center Future Energy Materials and Systems
The Research Center Future Energy Materials and Systems (RC FEMS) of the Research Alliance Ruhr has gained new international members. Professor Gabi Schierning has been conducting research at the University of Duisburg-Essen since February 2023, Professor Silvana Botti and Professor Miguel Marques at Ruhr University Bochum since April 2023. With their expertise in natural and technical sciences, the three new members sharpen the interdisciplinary approach of the RC FEMS.
"In our Research Center, we promote not only interdisciplinary research, but also the scientists who conduct it," stresses Professor Alfred Ludwig, Director at RC FEMS. "That's why we are delighted to welcome two top-class female professors and, at the same time, to promote the dual careers of Silvana Botti and Miguel Marques as a married couple."
As part of the Research Alliance, the RC FEMS is part of the University Alliance Ruhr, which is made up of Ruhr University Bochum, TU Dortmund University and the University of Duisburg-Essen. The goal of the Research Centre is to develop new, urgently needed materials for energy source production, energy conversion, storage and transport in a targeted, rapid and sustainable manner. This involves understanding fundamental properties and relevant processes of the production and use of complex materials and utilising them to develop building blocks for a sustainable energy system. At the same time, energy-intensive ways of producing and processing materials are to be replaced by regenerative processes.
Gabi Schierning
Gabi Schierning has held an RC FEMS professorship at the University of Duisburg-Essen since February 2023. Previously, she was a professor of experimental physics at Bielefeld University. "In addition to studying materials science and engineering, I have also researched fundamental questions in experimental solid-state physics," she outlines. "My experimental research focuses on electron transport in solids. Optimised electron transport is essential in many energy materials, which is why I am a good fit for RC FEMS. Specifically, I'm currently studying the role of electrons in phase transformations of metals."
Gabi Schierning didn't find it at all difficult to relocate to the Ruhr region. She'd already completed her habilitation at the University of Duisburg-Essen. "During that time, I got to know the university, many colleagues and also the Ruhr region, and I really enjoyed coming back," she says. In her own words, the Research Alliance Ruhr and specifically the RC FEMS offer her "an excellent research environment, especially with the appointment of several top-class scientists to push the boundaries of research in material design."
Silvana Botti
Silvana Botti holds the professorship for the theory of excited states of integrated solid state systems in Bochum; in this role, she's also a member of the Faculty of Physics and Astronomy. She took up the same post at her previous station, the Friedrich Schiller University in Jena. Silvana Botti, who has Italian and Portuguese citizenship, studied physics in Pavia. She's been working in close collaboration with experimental groups on groundbreaking topics in condensed matter physics and optics for some time, in addition to having a considerable track record in developing theories, methods and scientific software.
"My studies contribute to the exciting research field of computational materials design, an emerging multidisciplinary subject that brings together innovative efforts from condensed matter physics, materials chemistry and computer science," lists the researcher. Working at Ruhr University Bochum and the RC FEMS, Botti researches primarily "materials for energy", specifically the understanding and control of electronic excitations at functional interfaces. The transition to a clean and sustainable energy future depends heavily on research into alternative energy materials and advanced systems with improved performance – for applications such as solar cells, thermoelectric generators, batteries, photocatalysts and low-power devices.
Miguel Marques
Miguel Marques too studied physics, namely at the University of Coimbra in his native Portugal. He obtained his doctorate in 2000, likewise in physics, at the University of Würzburg in the field of density functional theory of superconductors. Marques then held several postdoctoral positions in Spain, Germany and France; he habilitated in Lyon in 2009. Most recently, he was a professor at Martin Luther University Halle-Wittenberg.
His current research focus includes density functional theory, superconductivity and, most importantly, the application of machine learning in materials science. "My main interest is in the development of new materials by combining traditional ab-initio techniques with more advanced machine learning algorithms, especially for technological applications in the fields of energy production and storage," says Miguel Marques, who is taking over the professorship of Artificial Intelligence for Integrated Materials Science. "My research in materials science is at the intersection of physics, chemistry, engineering and computer science, which makes the RC FEMS a perfect environment for me."
Miguel Marques is married to Silvana Botti. Both emphasise that the dual career option has been a decisive factor in their choice of the Ruhr region, in addition to the excellent research environment and the appointment of several top-class researchers to the RC FEMS. Upon taking up their professorships, they will move into the ZGH (Centre for Interface-Dominated High Performance Materials) with their groups, where they will continue to strengthen the research programme.
Published
April 5th, 2023
Author
A. Dessaul, D. Zuber