- Ruhr-Universität Bochum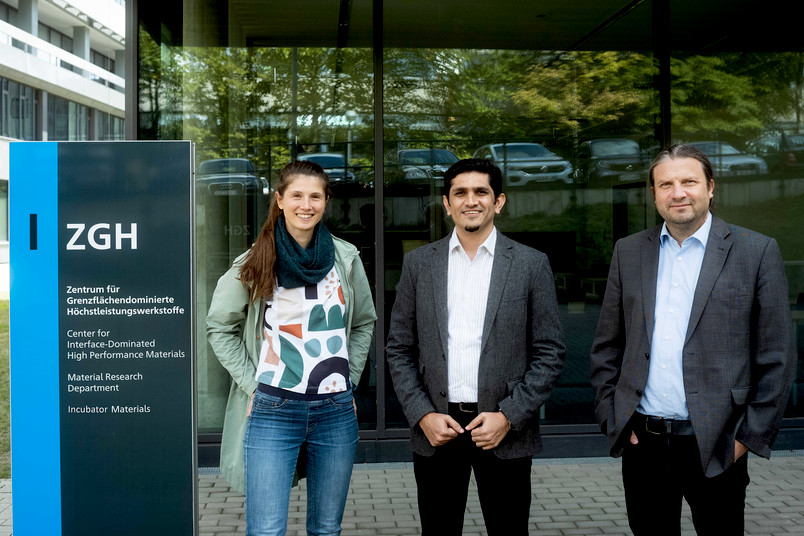 RUB News: Incubator Materials
"In a word: motivating"
In 2022, Founder Chinmay Khare participated in the Entrepreneurship Explorer Ruhr (EER) program of Worldfactory International and won. This was associated with a trip to Germany. On this occasion, the founder from India tells how he implemented his start-up idea.
Chinmay Khare has developed a special surface coating for medical devices such as implants and founded his start-up in India. As a result of his win at the EER, he not only visited the Makerspace during his trip to Bochum, but also received one-on-one pitch coaching, among other things. In Germany, Khare was supported in his start-up idea by the Worldfactory Start-up Center and by the Incubator Materials, which offers specialist advice.
Mr. Khare, please briefly describe your background.
I received my formal training in Physics during undergraduate studies. Later I was intrigued by materials science and pursued it as a postgraduate student. It was the time when surface coatings really fascinated me and I got an opportunity to work at Leibniz Institute for Surface Modification, in the group of Prof. Dr. Rauschenbach. Thereafter, I continued the research on thin films and surface coatings at the Institute for Materials in Prof. Dr. Ludwig's group in Ruhr University Bochum. During this time we worked on multidisciplinary projects including a very fruitful collaboration with Prof. Dr. Köller on biomaterials.
Can you describe your founding idea?
From a scientific perspective, biomaterials was always a very interesting field. Right from my postgraduate studies to post-doctoral research, I always had some exposure to biomaterials projects out of curiosity. Collaborative work with the group of Prof. Dr. Köller at Bergmannsheil hospital (Bochum, DE) and Entrepreneurship-in-residence (EIR) program at Venture Center (Pune, IN) were the two motivating moments to pursue the path of biomaterials. Through a combination of experiences it became apparent that a lab-bench idea has a potential to solve a pertinent clinical problem. Thus, the work started in the direction of turning the idea into a product.
How was the process between making your discovery and founding the company?
In one word, motivating. The idea was on the mind for quite some time. So I decided to approach a leading technology business incubator Venture Center (Pune, IN) and met the director Dr. V. Premnath. The concept needed refinement and thus I joined the EIR program. Through multiple prototypes and pivots we managed to establish the proof-of-principle. After complimenting efforts in the direction of problem definition and market research, we decided to incorporate Wissenkraft Labs Pvt. Ltd.
How long have you been working on it?
The concept was in lucid form for the last four years. However, the idea took defined shape in three years once we achieved lab-based evidence. After that we received funding through various Government grants in India including PRAYAS and BIG. This kick-started our work, precisely from translating our research into a clinical solution.
Why did you decide to participate in the Entrepreneurship Explorer Ruhr Programm from Worldfactory International?
Although I was in India, I was in touch with Prof. Dr. A. Ludwig at RUB. He encouraged me to get connected to World Factory International and introduced me to Tina Boes. After that we interacted through telecons and I elaborated on our technology. Looking at our requirements Tina suggested that I apply for the EER program. We were delighted to get selected through the screening process and participated in the program in June. As part of the program I got an opportunity to travel to World Factory International at RUB and explore the synergies in the ecosystem.
How does the Worldfactory consulting team help you in general?
The World Factory team is absolutely fabulous. Throughout the interactions they have helped us in finding appropriate connections. Tina & Lisa from Materials and Health+ incubator have made sure that we receive constructive feedback. Anne and Vanessa were instrumental in arranging the EER Program and ensuring effective outcomes.
What are the differences with the startup culture in Germany compared to India?
The startup cultures in Germany and India are similar in many ways, however different in micro and subtle aspects. The needs of both societies are different and thus startups naturally are inspired to provide solutions to the specific geographies. On a technology and manufacturing level Germany maintains an edge. Comparatively, access to some key elements of production infrastructure is at times challenging in India. However, culturally in India we are trained to find a work-around with frugal solutions. Zest, passion and motivation are identical in both countries. Moreover, thanks to globalization, technological expertise lies on both sides. Programs like EER provide unique opportunities to explore mutual synergies in respective ecosystems.
Published
December 5th, 2022
Author
K. Heyer, C. Khare