- Ruhr-Universität Bochum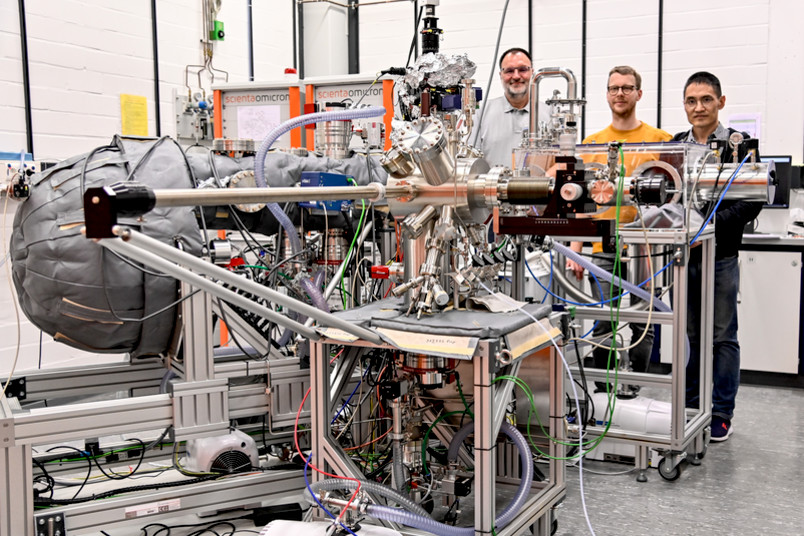 RUB News: Materials Research
New large-scale research instrument for materials characterisation
Ruhr University Bochum now boasts a new large-scale research instrument that helps to analyse catalytic surfaces under application-specific conditions. The so-called NAP-XPS system – an acronym for Near-Ambient-Pressure X-ray Photoelectron Spectroscopy – is housed at the Chair of Industrial Chemistry, where it is used by many different research groups. Unlike conventional measurements, analyses done in the NAP-XPS unit don't have to be performed in an ultra-high vacuum; rather, they run at a pressure of a few millibars. The 1.6 million euro instrument was acquired as part of the large-scale research project Carbon2Chem, which is funded by the Federal Ministry of Education and Research.
Vital for catalysis research
X-ray photoelectron spectroscopy is a powerful and non-destructive technology for material and surface analysis. It can be employed, for example, to investigate the interactions of surfaces with gases – which is important for heterogeneous catalysis. The instrument is also used for measurements in the field of electrocatalysis. Both are key research areas at Ruhr University Bochum. Here, researchers are exploring such topics as the storage of renewable energy in the chemical bonds of small molecules and the conversion of CO2. Heterogeneous catalysis is moreover essential for the hydrogen industry. Cooperation of more than 100 researchers
In addition to Professor Martin Muhler and Professor Bastian Mei from the Chair of Industrial Chemistry, there will be other groups working with the new plant: more than 100 researchers from the groups headed by Professor Kristina Tschulik (Electrochemistry & Nanoscale Materials), Professor Wolfgang Schuhmann (Electroanalysis and Sensors), Professor Ulf Apfel (Technical Electrochemistry – Activation of Small Molecules) and Professor Axel Rosenhahn (Biointerfaces). In addition, several large-scale research projects have access to the new infrastructure, namely the joint project Carbon2Chem, the Collaborative Research Centre/Transregio 129 (Oxyflame), the Collaborative Research Centre/Transregio 247 (Heterogeneous Oxidation Catalysis in the Liquid Phase) and the Collaborative Research Centre 1316 (Transient Atmospheric Pressure Plasmas).
"Ruhr University Bochum has established itself as an internationally renowned research centre for heterogeneous catalysis and electrochemistry. It can therefore make a significant contribution to a successful energy transition and to the national hydrogen strategy," says Martin Muhler.
Author
J. Weiler, D. Zuber