- Ruhr-Universität Bochum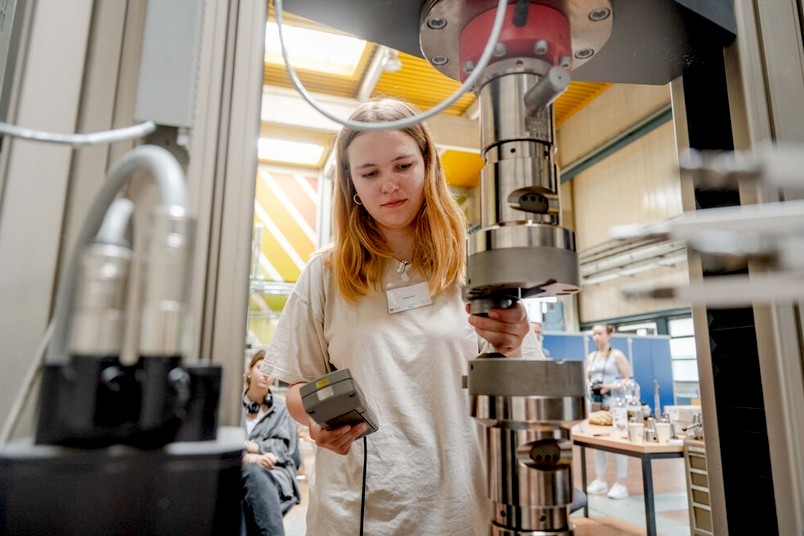 RUB News: Materials Science
Stress test at the summer school
Crack! Despite the humming and whirring going on inside the machine hall, you can clearly hear the metal sample tearing apart. Even though it looks stable, the metal pin that a student had clamped in the test rig with a few deft moves a couple of minutes earlier has snapped in half. The result of this tensile test, in which a sample is stretched lengthwise at one end, does not come as a surprise to the students. They had already simulated exactly this process on the computer. Now they are testing the computer model that predicted how the sample would behave in practice. As part of a two-day summer school, the students have the opportunity to get a taste of the labs and test halls for materials science and gain an insight into experimental and theoretical materials research.
A joint team from the Interdisciplinary Centre for Advanced Materials Simulation and the Institute for Materials at Ruhr University Bochum hosted the summer school for the first time in June 2023. Female and gender diverse students in 10th grade and older were invited to participate. This is because traditionally it is predominantly men who apply for natural science and engineering courses such as materials science. The organisers hope that the summer school will help to make the subject more appealing to a larger group and to break down potential barriers that stand in the way of an application.
Students can gain hands-on experience through experiments like the tensile test and the computer simulations. "I really like the summer school," says one participant. "It's a good balance between professors who explain things to us and students who give us insights into the degree programme. That's very helpful for anyone who considers studying materials science." Manling, another participant, adds: "For people who want to do materials science, it's very exciting to see how everything works. The students and professors put a lot of effort into it and motivate us. Everything is thought out very well and we get to see a lot in the two days."
In addition to the tensile test as both a simulation and an experiment, the summer school also covers the characterisation of materials on the atomic scale. Here, too, the students have a go at the experiments and get an insight into atom probe tomography. Finally, the students can try out for themselves how shape-memory alloys – i.e. materials that play a major role in medical technology in particular – return to their original shape after deformation. Moreover, at the "Meet the Female Faculty" forum, the students have the opportunity to get in touch with women researchers in the field of materials science.
Next year, the summer school will be held again – and inspire more female students for materials research.
Published
June 23rd, 2023
Author
J. Weiler, D. Zuber