- Ruhr-Universität Bochum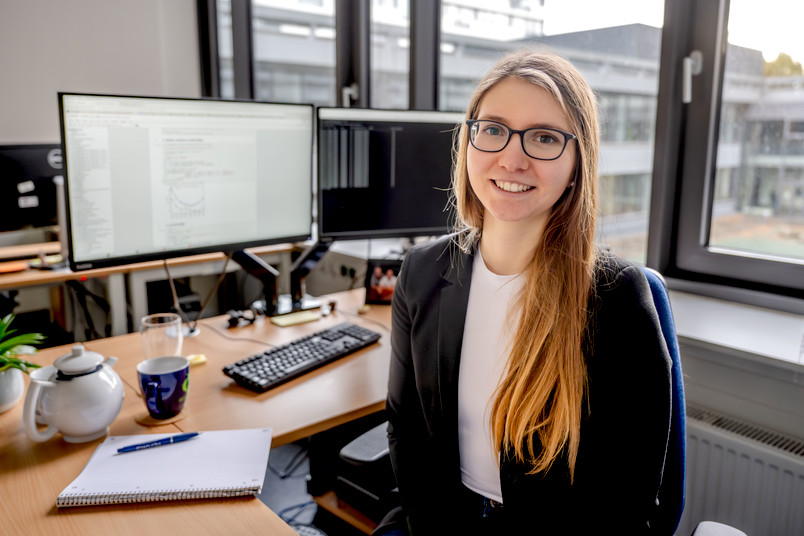 Isabel Pietka has almost finished her doctoral thesis. She'd like her next position to be in the Ruhr area too. © RUB, Marquard
RUB NEWS: MATERIALS SCIENCE
Isabel Pietka creates new materials from numbers and equations
Looking at materials science, what is its most fascinating aspect for you?
I work in theoretical materials science, having previously studied physics and completed my Master's degree in experimental quantum physics in Innsbruck. In my current research at Ruhr University Bochum, I am primarily interested in the mathematics behind the experiments. You could say our starting point are numbers and equations, which we then use to model entire materials that are used in industry. Plus, we can use our scientific methods to validate the experiment on a theoretical level. I find this fascinating and am therefore very happy to be able to do research in this area.
Did you make any discoveries in your research that surprised you in particular?
In my field of work, we produce materials that are used in gas turbines, for example for aviation and power generation. The materials we develop make the processes in the turbines more efficient and, ultimately, more energy-saving. I therefore collaborate extensively with mechanical engineers. Specifically, we're exploring nickel and cobalt-based superalloys. During my research, I discovered that these two alloys also have a lot in common at an atomic level. I wasn't aware of this before and it was very exciting to see.
You recently organized the Early Career Researcher Day (ECR Day) together with colleagues. It's a conference just for early career researchers. What makes it so unique?
In my experience, you have to practice presenting and communicating science if you want to get good at it. And the major conferences hardly offer any room to do this. There, you have to get everything right. Whereas the atmosphere at our ECR Day is very relaxed. Making mistakes is allowed, we support and encourage each other. At the large conferences, the pressure is simply much higher for the presentation to be perfect. Nerves are running high, and it helps to have developed a certain routine. The ECR Day gives young researchers the opportunity to do just that.
Published
November 9th, 2023
Author
Raffaela Römer, translated by Donata Zuber